In recognition of National Law Enforcement Week, The Blood Connection is calling on the community to help us honor local heroes. Law enforcement officers put their lives on the line every day for their communities, some paying the ultimate sacrifice to serve and protect. As an organization whose main mission is also to save lives, TBC thanks those brave men and women for their service.
While we can't all be officers or deputies, we can honor their live-saving passion by donating blood. TBC's mission goes hand-in-hand with theirs. When tragedies happen, law enforcement officers are the first responders. Blood supplied by The Blood Connection is also there in an emergency, when people need it most. Since donations only come from our community blood donors, TBC is especially grateful to those behind the badge for protecting the lifeblood of what we do.
In the spirit of saving more lives together, The Blood Connection is teaming up with the local law enforcement agencies listed below from May 15-21. At most locations, TBC blood donors will receive a $10 eGift card and a Law Enforcement Week t-shirt. Some donor gifts vary.

Donors can also take part in this promotion at any TBC Center. At a center, donors have the option to donate their eGift card to SC or NC C.O.P.S. They will also receive a Law Enforcement Week t-shirt.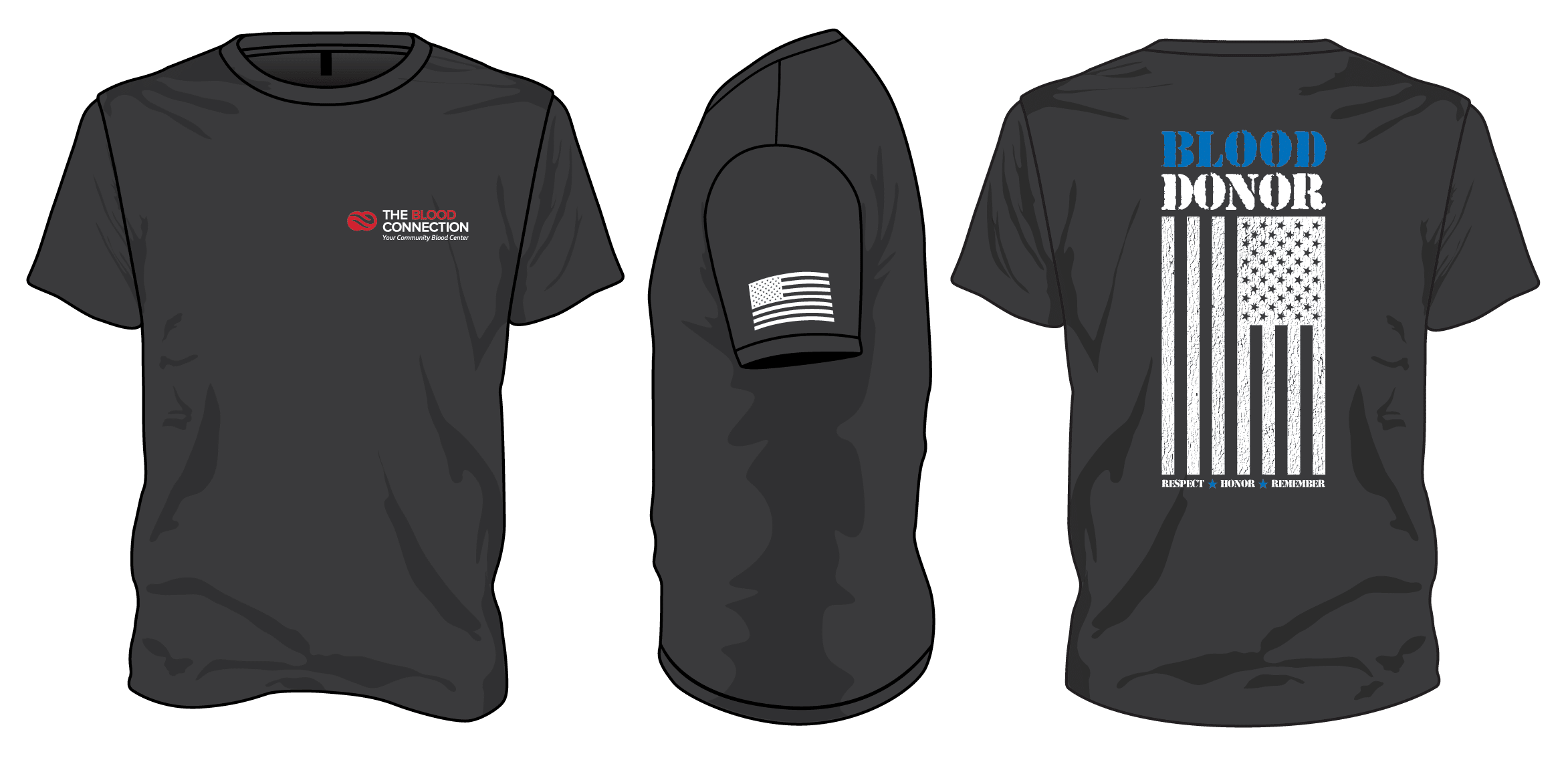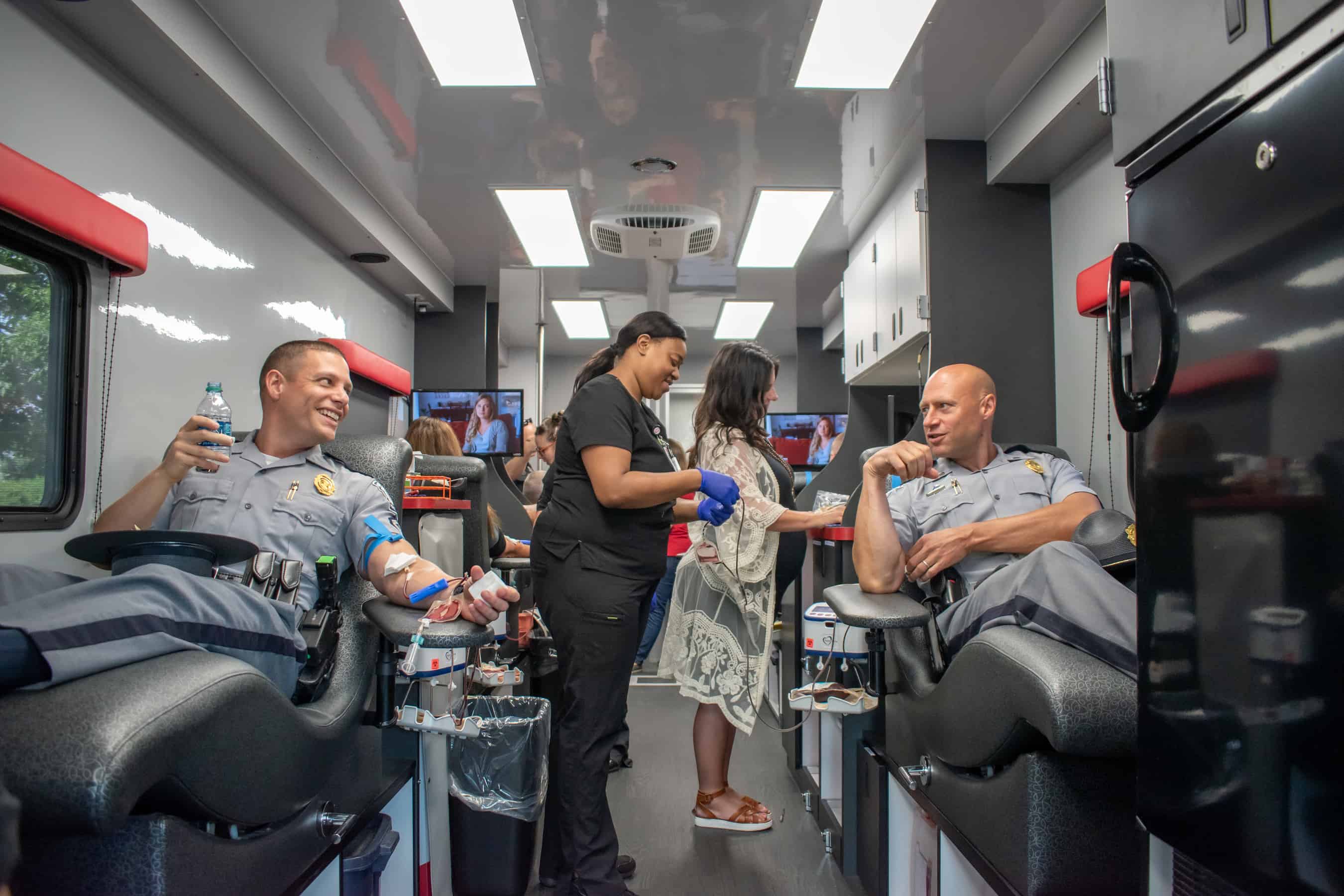 Upstate South Carolina:

City of Wellford Police Department
127 Syphrit Road
Wellford, SC 29385
Monday, May 16
2pm – 5pm
LE Memorial Week – Easley
220 Northwest Main Street
Easley, SC 29640
Monday, May 16
10:30am – 2:30pm
LE Memorial – Downtown Spartanburg Library
151 South Church Street
Spartanburg, SC 29306
Monday, May 16
11am – 4pm
LE Memorial Week – Greenville
4 McGee Street
Greenville, SC 29601
Tuesday, May 17
9am – 2pm
Anderson County Sherriff's Office
305 Camson Road
Anderson, SC 29625
Tuesday, May 17
2pm – 7pm
LE Memorial Week – Pickens County
216 C. David Stone Road
Pickens, SC 29671
Wednesday, May 18
9am – 2pm
LEW Golden Strip
861 SE Main Street
Simpsonville, SC 39681
Thursday, May 19
3pm – 8pm
Irmo Police Foundation
7507 Eastview Drive
Irmo, SC 29063
Thursday, May 19
1:30pm – 6:30pm
Laurens County Sherriff's Office
216 West Main Street
Laurens, SC 29360
Thursday, May 19
9am – 12:30pm
LE Memorial Week – Landrum Police
100 North Shamrock Avenue
Landrum, SC 29356
Friday, May 20
2pm – 7pm
LE Memorial Week – Walmart Greer
Walmart
14055 Wade Hampton Boulevard
Greer, SC 29651
Saturday, May 21
2pm – 7pm
Nicholson BD – Cracker Barrel
1134 Woodruff Road
Greenville, SC 29607
Friday, May 27
2pm – 7pm
Eastern North Carolina:

Moore County Sheriff's Office
302 South McNeill Street
Whisper Pines, NC 28327
Wednesday, May 11
9am – 2pm
Columbus County Sheriff's Office
805 Washington Street
Whiteville, NC 28472
Wednesday, May 11
10am – 3pm
Lee Country Sheriff's Office
1401 Elm Street
Sanford, NC 27330
Sunday, May 15
1pm – 6pm
Robeson County Sheriff's Office
120 Legend Road
Lumberton, NC 28358
Monday, May 16
9am – 1pm
Fuquay-Varina Police Department
1051 East Broad Street
Fuquay-Varina, NC 27526
Monday, May 16
12pm – 5pm
Apex Police Department
205 Saunders Street
Apex, NC 27502
Monday, May 16
1pm – 6pm
Zebulon Police Department
301 South Arendell Avenue
Zebulon, NC 27597
Monday, May 16
9am – 2pm
Fayetteville Police Department
467 Hay Street
Fayetteville, NC 28301
Tuesday, May 17
9am – 2pm
Bladen County Sherriff's Office
299 Smith Circle
Elizabethtown, NC 28337
Tuesday, May 17
9am – 1pm
Clayton Police Department
805 Towne Centre Boulevard
Clayton, NC 27520
Tuesday, May 17
1pm – 6pm
Cumberland County Sherriff's Office
131 Dick Street
Fayetteville, NC 28301
Wednesday, May 18
9am – 2pm
Smithfield Police Department
1299 North Brightleaf Boulevard
Smithfield, NC 27577
Wednesday, May 18
2pm – 7pm
Garner Police Department
912 7th Avenue
Garner, NC 27529
Wednesday, May 18
2:30pm – 7:30pm
Chapel Hill Police Department
828 Martin Luther King Jr. Blvd.
Chapel Hill, NC 27514
Wednesday, May 18
10am – 1:30pm
Onslow County Sherriff"s Office
717 Court Street
Jacksonville, NC 28540
Thursday, May 19
10am – 3pm
Benson Police Department
303 East Church Street
Benson, NC 27504
Thursday, May 19
2pm – 7pm
Johnston County Safety Campus
245 College Road
Smithfield, NC 27577
Thursday, May 19
2pm – 7pm
Knightdale Police Department
979 Steeple Square Court
Knightdale, NC 27545
Friday, May 20
9am – 1pm
Dare County Sherriff's Office
205 Highway 64 South
Manteo, NC 27954
Friday, May 20
10am – 3pm
Western North Carolina:

Boone Police Department
880 Greenway Road
Boone, NC 28607
Monday, May 16
10am – 3pm
Avery County Sheriff's Office
436 Hospital Drive
Linville, NC 28646
Monday, May 16
1pm – 6pm
LE Memorial Week
9 South Main Street
Waynesville, NC 28786
Wednesday, May 18
1pm – 6pm
Craggy Correctional Center
22 Canoe Lane
Asheville, NC 28804
Wednesday, May 18
2pm – 7pm
Mountain View Correctional
545 Amity Park Road
Spruce Pine, NC 28777
Thursday, May 19
9am – 2pm
Mount Holly Police Department
400 East Central Avenue
Mount Holly, NC 28120
Thursday, May 19
10am – 3pm
Buncombe County Courthouse
Jury Assembly Suite
2nd Floor 60 Court Plaza
Asheville, NC 28801
Friday, May 20
10am – 3pm
Polk County Sheriff's Office
164 Government Complex Drive
Columbus, NC 28722
Saturday, May 21
11am – 4pm
Yancey County Sheriff's Office
51 Town Square Boulevard
Burnsville, NC 28714
Saturday, May 21
12pm – 5pm
Coastal South Carolina:

Isle of Palms Police Department
30 JC Long Boulevard
Isle of Palms, SC 29451
Monday, May 16
10am – 3pm
Georgetown County Sheriff's Office
430 North Fraser Street
Georgetown, SC 29440
Tuesday, May 17
10am – 3pm
Dorchester County Sheriff's Office
220 Hodge Road
Summerville, SC 29483
Tuesday, May 17
2pm – 7pm
Dorchester County Sheriff's Office
220 Hodge Road
Summerville, SC 29483
Wednesday, May 18
2pm – 7pm
Georgia Southern University
108 Library Drive
Savannah, GA 31419
Wednesday, May 18
10am – 3pm
Summerville Police Department
300 West 2nd North Street
Summerville, SC 29483
Thursday, May 19
10am – 3pm
City of Charleston Police Department
180 Lockwood Boulevard
Charleston, SC 29403
Friday, May 20
10am – 3pm
Chesterfield County
178 Mill Street
Chesterfield, SC 29709
Friday, May 20
9am – 2pm
Mount Pleasant Police Department
110 Ann Edwards Lane
Mount Pleasant, SC 29464
Friday, May 20
10am – 3pm
SIGN UP TO
Host a Blood Drive