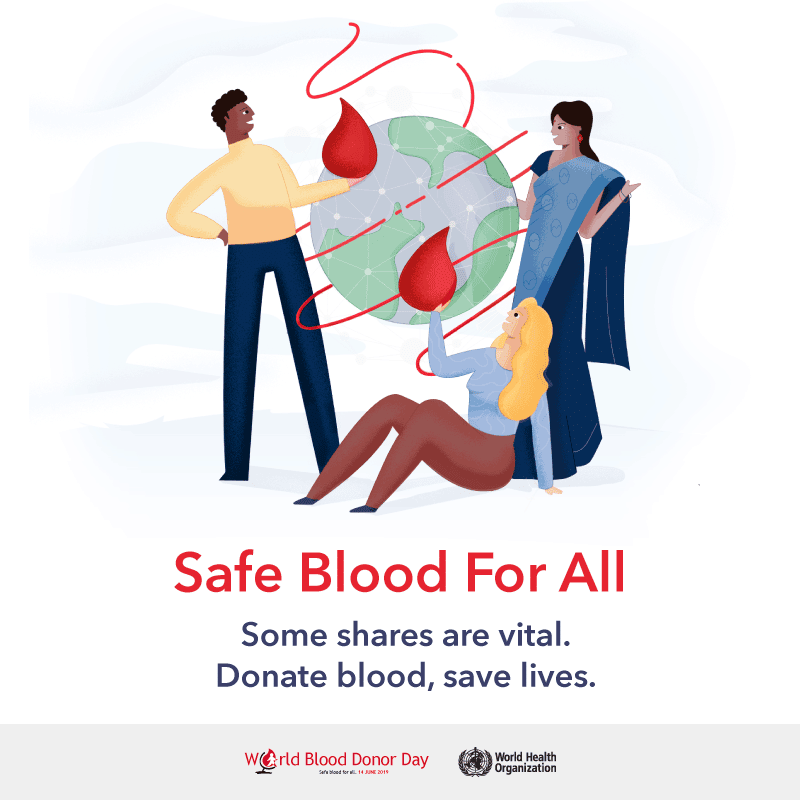 Celebrate World Blood Donor Day with TBC
Be part of a world-wide movement of people donating blood on World Blood Donor Day! The Blood Connection (TBC) has donation centers and mobiles all over North or South Carolina to make sure you can take part!
Friday, June 14th is World Blood Donor Day 2019 and this year's campaign recognizes the need for safe blood for all. TBC is joining organizations in the US and around the world to acknowledge the constant need and to celebrate blood donors who are committed to saving lives.
"We want our blood donors to feel as special they are, for saving lives every day through their generous blood donations," said TBC President and CEO, Delisa English. "We also hope to inspire more people throughout the community to donate blood regularly, and often."
Health is a human right; everyone in the world should have access to safe blood transfusions, whenever and wherever they need them. The need for blood products is universal, but access to safe blood and blood products varies greatly across and within countries. It starts with donating local.
 Special events by region: 

– Eastern North Carolina:

June 14th – Raleigh TBC Donation Center – 5925 Glenwood Avenue

Miss North Carolina, Laura Matrazzo, will be visiting the center from 2:30-4:30 p.m. and Miss Garner's Outstanding Teen, Ashton Britt, will be there from 11a.m.-2 p.m. The community and media are welcome to attend and meet them.

– Upstate South Carolina:

June 14th & 15th – Spartanburg and Greenville Donation Centers

Join WSSL 100, for a country-lovin' blood drive! They'll have your favorite country tunes playing when you come donate with TBC. The simple act of donating blood will get you 2 tickets to hang with Locash, Russell Dickerson, Dylan Scott, and Rachel Wammack, and Joe Lasher at the Pickin' in the Park concert in Spartanburg! We'll also hook you up with a Country's in My Blood t-shirt to show off that country pride.

 – Western North Carolina: 

June 27th – WLOS Station – 110 Technology Drive

To round out the month of June, TBC is also teaming up with WLOS ABC13 for the 32nd Annual Operation Blood Drive. Donors can visit six different locations around Asheville to take part in OBD. Donors will also receive a special OBD t-shirt.
Sponsored by the World Health Organization (WHO), World Blood Donor Day celebrations bring a precious opportunity to celebrate all blood donors on a local, national and global level as well as to commemorate the birthday anniversary of Karl Landsteiner, a Nobel Prize winner credited for distinguishing the main blood groups in 1900.
Blood transfusions help save millions of lives every year around the world. Here in the Western North Carolina area, they help local patients suffering from life-threatening conditions live longer with a higher quality of life. Blood also has an essential, life-saving role in maternal and perinatal care, as well as people with traumatic injuries and patients undergoing surgical procedures. But an adequate blood supply can only be assured through regular donations by voluntary blood donors.
Blood donors must be 16 years old with parental consent, or 17 years old or older to donate. All donors must have a photo ID.
Click DONATE NOW to find your nearest location! Thank you for saving lives in our community!