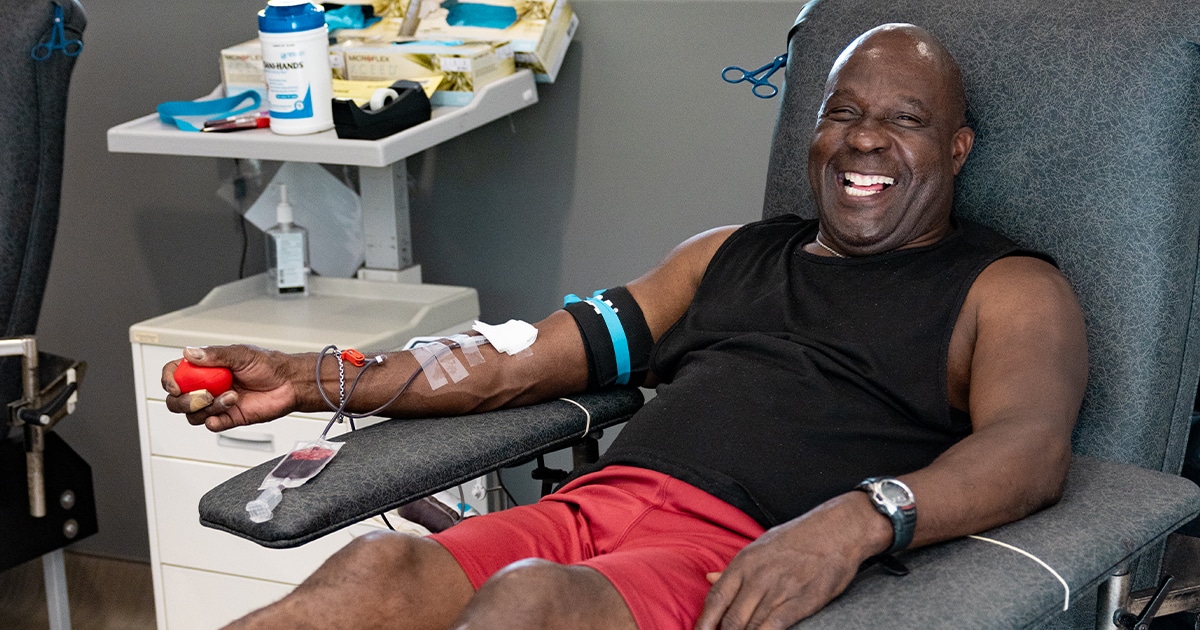 What to Expect When Donating Blood
So, you've decided to donate blood for the first time. That's fantastic — let us be the first to say thank you! Each donation can save up to three lives and help people in your community. You've chosen to volunteer for a selfless act of service, and you should feel proud knowing that you are a lifesaver.
Donating blood for the first time can be a little intimidating, but don't worry — we're here to ease your anxieties and tell you exactly what to expect during your experience. We'll guide you through the steps you should take before donating blood, tell you what to expect on the day of your donation, and offer some practical post-donation suggestions. We've got blood donation down to a science. 
What To Do Before Your Blood Donation 
Proper preparation can make your blood donation experience as seamless and comfortable as possible. First, we suggest you make an appointment at your local Blood Connection donation center or at a convenient bloodmobile. Appointments are not required, but making one can help you plan out everything you need to do before donating.
Note: You must be 17 years old to donate without parental consent in South Carolina and Georgia. 16 and 17-year-olds need parental consent in North Carolina. Donors must also weigh at least 110 pounds. 
Before heading to your donation appointment, you should eat a nutritious meal that is rich in iron. Red meat, fish, poultry, beans, spinach, and iron-fortified cereals are all good options. It's also essential to stay hydrated. Most of your blood is made of water, so staying hydrated with non-alcoholic drinks (water is always the best choice) is an excellent way to help your body replenish after your donation, and not react during the process. It's hard to hydrate effectively at the last minute, so plan your hydration a few days before your appointment for the best results.
If you exercise regularly, it's best to avoid an intense workout before your donation. Also, don't try to work out afterward either. Resting will help your body replenish fluids post-donation, so save those extreme workouts for another day. 
Pro tip: You can save time during your donation by filling out paperwork ahead of time with TBC Express on the TBC NOW App. This simple step can reduce your wait time and let you get on with your day quickly after spending a few minutes with us.
What To Do on the Day of Donation
Today's the day! Let's get ready. 
This first tip may seem simple, but make sure you wear a short-sleeved shirt or a shirt with sleeves that you can easily push past your elbow. This will make the donation go more smoothly and make you more comfortable. While you're at it, go ahead and drink an extra 16 ounces of water just before it's time for your donation. Even when you've hydrated more than the previous days, these last few sips help ensure your fluid levels are where they need to be. To help the check-in process go smoothly, you should also have a list of your current medications, both prescribed and over-the-counter, and a photo ID.
When you arrive at the donation site, you will go through a mini-physical. It's critical that you answer these questions truthfully; otherwise, the blood you donate may have to be discarded. This physical will include taking your blood pressure and temperature and collecting a small blood sample to ensure you aren't anemic – aka your iron is high enough. 
Once it's been determined that you're eligible to donate, it's time to sit back and relax. We always use new, sterile, sealed needles, so there's no need to worry about cross-contamination. Listen to music, read a book, or just take it easy. Since we only collect one pint of blood at a time, the actual donation only takes 8-15 minutes. You'll be done before you know it. 
What To Do After Your Blood Donation
Immediately after your donation, we encourage you to grab a snack and a drink at our facility. It's on us. This snack (or snacks) will help your body replenish energy quickly. We will ask you to rest for at least 10  minutes to make sure that you feel okay and aren't experiencing any faintness or nausea. If you start feeling bad, please let a staff member know immediately, and we can assist you. Once you've rested for a few minutes and feel okay to leave, you're ready to get on with your day.
As soon as your donation is finished, we put your blood to work. First, we send it to be tested so it's safe for transfusion. . If we find anything out of the ordinary, one of our team members will notify you, and the blood will most likely be discarded. (This is very rare, but  why honesty during your physical is so important!) Once your blood is determined to be usable, it is typed and stored in a blood bank, where it will stay for up to 42 days — or until a patient needs it. We receive orders from hospitals based on their patient loads every day and send the requested units of blood so they can be used to save lives.
Donating blood isn't a mysterious smoke-and-mirrors trick; it's a straightforward process that thousands of people participate in every day. At The Blood Connection, we've been easing people through the donation process for more than six decades, so rest assured — you're in good hands!
To learn more about the blood donation process, visit our website or contact us today. We would love to tell you more and answer any questions that you have about donating blood.