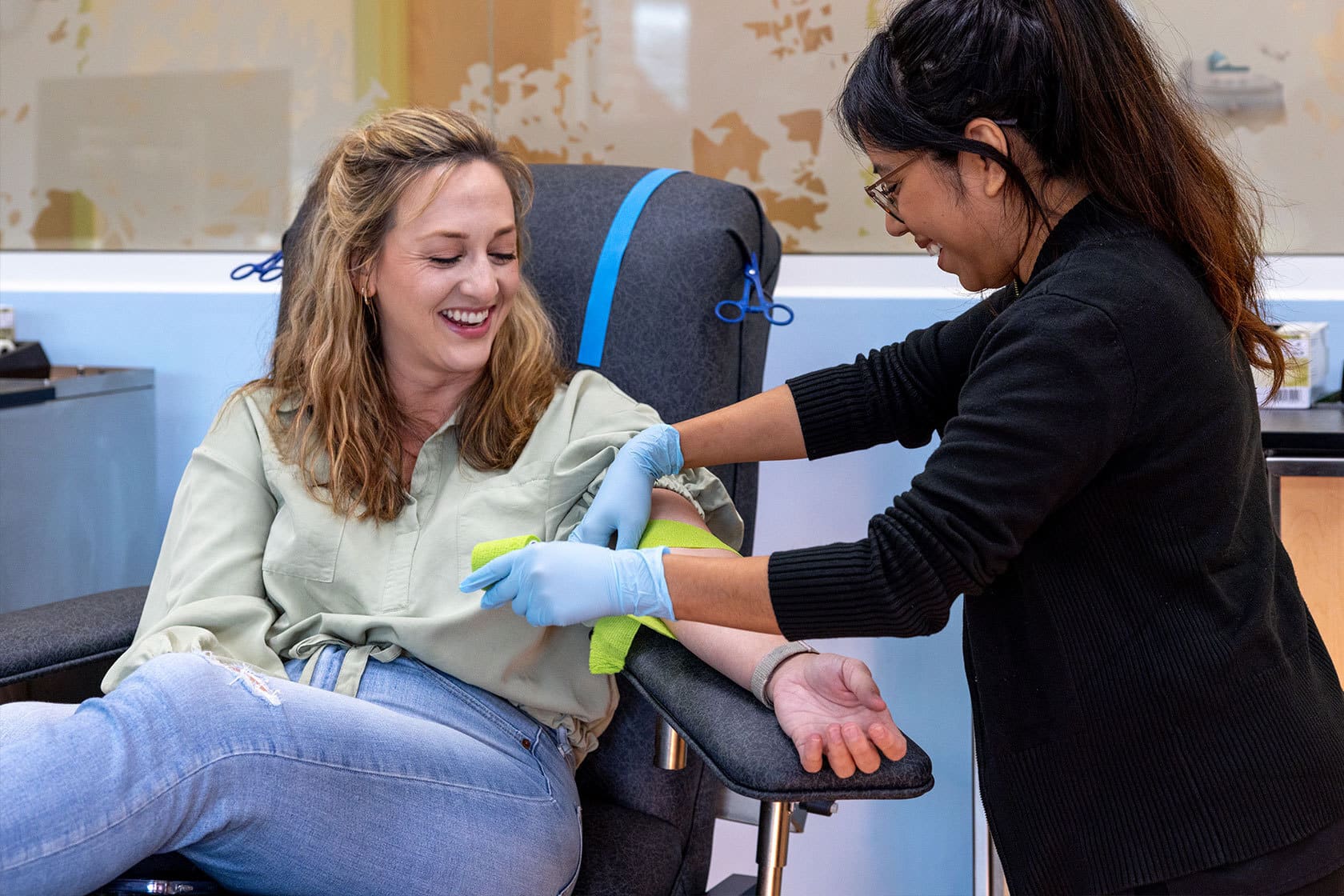 Community Spotlight: Recognizing Outstanding Blood Donors
Blood donation is a life-saving gift. Without generous donors, patients in need would lack the vital resource they need to live the healthiest life possible. Many people choose to donate purely from the kindness of their hearts. Others have experienced the impact of blood donations personally. No matter why people choose to donate, their willingness to give provides hope to those in need. 
At The Blood Connection, we recognize that our mission of saving lives would be impossible without our blood donors. We appreciate their willingness to give blood and their excitement for the difference their donations will make in the lives of others in their communities.
Let's take a closer look at the impact of blood donations and how we work to give our donors the recognition they deserve.
The Impact of Blood Donations
Medical emergencies often require blood transfusions due to major blood loss or critical surgeries. Donated blood helps stabilize a patient's condition and prevent further complications. For planned procedures, blood donations ensure there's a sufficient supply of blood to perform operations successfully.
Patients with cancer or blood disorders require ongoing treatment and regular blood transfusions to alleviate medication-related side effects and improve their overall health. Without these vital transfusions, patients would not have the strength to undergo rigorous treatment regimens.
From time to time, childbirth complications also require timely blood transfusions to address excessive bleeding or other medical issues. In these situations, donated blood can save the lives of mothers and their babies.
On a larger scale, blood donations are crucial in maintaining a constant blood supply and preventing shortages. Hospitals and healthcare facilities need to have a sufficient supply of blood products on hand for both planned and unplanned procedures.
The best part about blood donation is that it's not just a one-to-one donor/recipient ratio — a single donation can save up to three lives! This fact alone shows the life-changing ripple effect that the selfless generosity of blood donors can have on the lives of individuals and families.
TBC Rewards Program
Saving lives is its own reward. But here at The Blood Connection, we recognize that donors are taking time out of their days to make a difference, so we think it's important to do a little more to acknowledge their generosity. With the TBC Rewards Program, our loyal donors get additional perks for donating — and we make it easy to get started.
When you become a TBC donor, you'll create a personal donor profile that connects to your rewards account. Once your account is linked to your profile, you can access it using the Donor Portal. The TBC Donor Portal lets you view your blood type, edit your contact preferences, see your donation eligibility data, take a survey about your donation experience, and view your mini-physical results. You can also use it to see how many reward points you've earned.
As part of the TBC Rewards Program, you receive reward points every time you donate. These points can be collected and redeemed for an eGift card of your choosing. We've recently updated the TBC store to include even more eGift card options for our loyal donors.
Why Donor Recognition Is Important
Beyond the TBC Rewards Program, we love sharing donor stories, whether that be on our website or social channels. Our donors drive the mission of The Blood Connection, so we think it's important for them to have a chance to share what donating blood means to them. Here are a couple stories that highlight the personal impact and critical importance of every donation.
Shelby's Story
Shelby is a high school student and regular donor at The Blood Connection. She initially thought donating blood was just something people did to make a little extra money, but her perspective changed when she learned the life-saving impacts of blood donation. Shelby currently works as a tech at MUSC, so she's seen firsthand how blood is used on her unit. "It's probably one of the most important things someone can do," she said.
As the president of her local Future Health Professionals club, Shelby has scheduled multiple TBC blood drives to unite others around the mission of saving lives through blood donations. We appreciate her dedication to donating and her desire to help others become regular donors.
Lisa's Story
Lisa had a cesarean section and a hysterectomy when she gave birth, and blood donations saved her life. Since then, she's become a regular donor at The Blood Connection and encourages others to do the same. "Don't think. Don't stop," she said. "Drive to a donation center and come give blood. Somebody needs it. You might need it in the future."
Lisa drives over an hour to get to her local center and donate. For her, every mile is worth it. "You'll walk away feeling like you've done something great for someone else."
Telling our donors' stories helps build a sense of community that makes The Blood Connection unique. Our community of donors can see they are part of a larger group committed to a common goal of supporting the health of others. 
Beyond their individual donations, our donors play a crucial role in raising awareness about the importance of blood donation and the need to maintain a steady blood supply. Their stories provide an opportunity to educate others about the significance of donating blood.
How You Can Get Involved
Becoming a donor at The Blood Connection is easy. Simply schedule your appointment online by visiting our website. To set up your donation, just click the "Donate Now" link and provide your zip code. With that information, we'll locate a donation center near you. And while we prefer you make an appointment, it's not required. Walk-ins are always welcome. 
When you arrive at a TBC donation center, provide your personal ID and donor ID card. You'll be eligible to donate as long as you meet all the blood donor requirements. See our Important Donor Information for a complete list of donor eligibility requirements. Once you've completed your mini-physical, you can sit back, relax, and save lives.
Like Shelby, you can also get involved by hosting TBC blood drives. Our mobile donation centers can come to you. You bring the donors; we'll do the rest. Complete the Host a Drive form on our website to start planning your drive today.
Ready to donate? Schedule your appointment at The Blood Connection today to start saving lives and earning rewards!