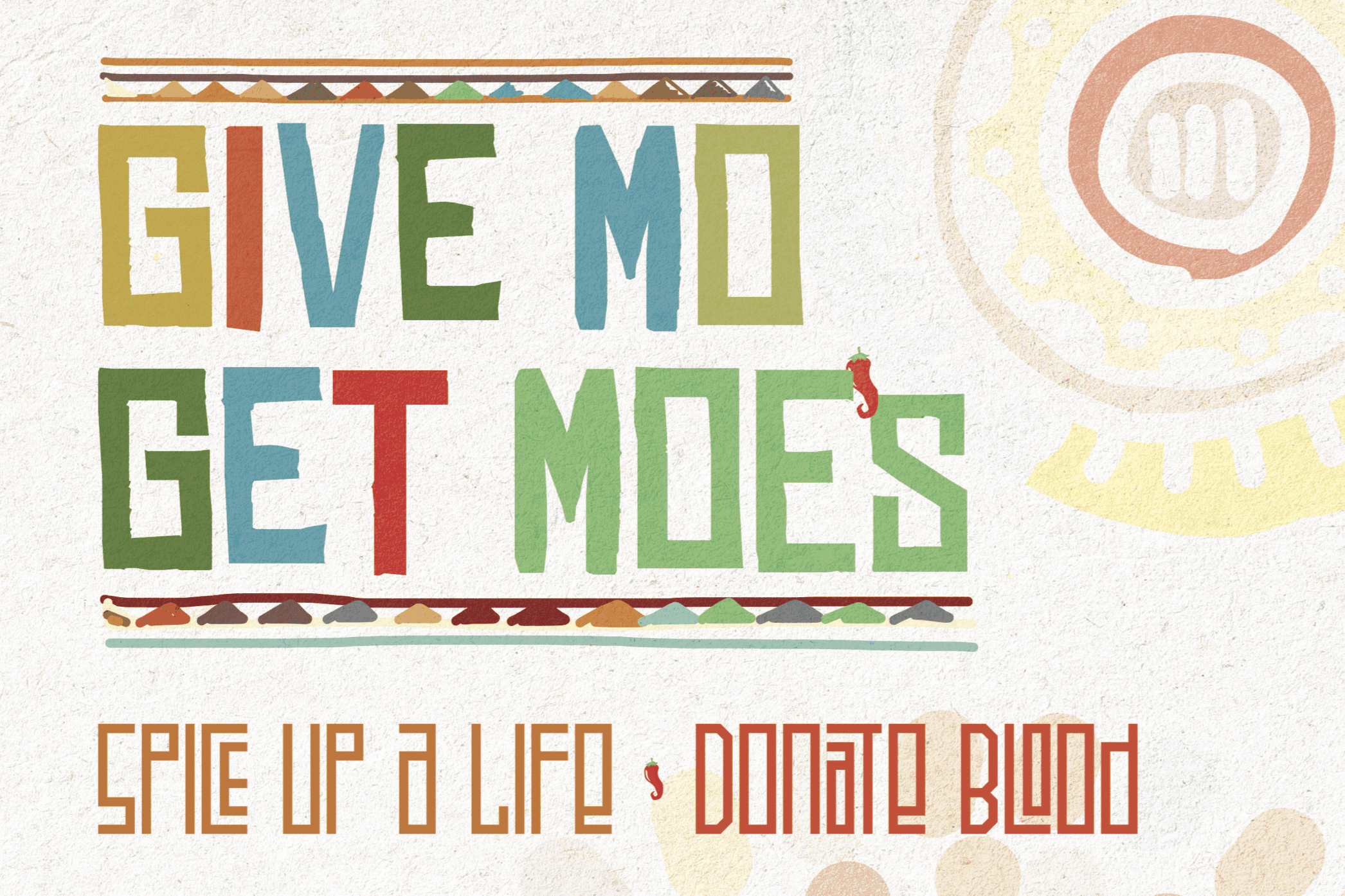 Spice Up a Life: Donate Blood!
If you're a Moe's fan, you've probably heard of Mo Monday (the best day of the week, are we right?) Well TBC is making Mo Mondays even better! Donate blood with The Blood Connection and you'll get your fave Moe's meal for FREE, 2 weeks in a row. We're not kidding.
For the entire month of September, TBC and Moe's Southwest Grill are working together to getting people fired up about blood donation. Partnerships like this are essential to the community's blood supply. Moe's enthusiasm to partner with TBC has helped the blood center reach new donors and save more lives! That just goes to show that teamwork really does make the dream work.
The Give Mo' Get Moe's promotion runs September 9th – September 30th. Donors who give blood at any TBC center on any Monday in September will receive a $20 Moe's gift card! To find a center near you, click here.
On September 23rd, 11 Moe's locations will host a blood mobile for a collective blood drive from 4-8 P.M. Blood donors will receive a $20 Moe's gift card there too. After donating, walk right into your local Moe's and enjoy a free dinner, a thank you for spicing up/saving someone's life!
Participating Locations:
| | |
| --- | --- |
| 449 East Main Street  | Spartanburg, SC |
| 6005 Wade Hampton Blvd, # A | Taylors, SC  |
| 500 Haywood Rd | Greenville, SC  |
| 3144 N Main St | Anderson, SC  |
| 360 Merrimon Ave | Asheville, NC |
| 168 Shenstone Blvd |  Garner, NC |
| 10760 Wakefield Commons Dr |  Raleigh, NC |
| 1410 E Broad St | Fuquay-Varina, NC  |
| Belle Hall: 612-A Long Point Rd | Mt Pleasant, SC  |
| 9514 Dorchester Rd #106 | Charleston, SC  |
| 214 Azalea Square Blvd | Summerville, SC  |
The Moe's promotion at TBC donation centers will be held on 09/09, 09/16, 09/23, 09/30. Donor gifts are while supplies last. Mobile drives are only on 09/23.
When donors give blood with The Blood Connection, it stays local. TBC is the primary blood provider for local hospitals, which means when anyone there needs blood, TBC supplies it. While trauma is the most obvious reason for blood usage, cancer patients are usually the number one recipients of blood products. Donations are also needed for burn victims, premature infants, surgeries, and those with blood disorders, to name a few. When community members share blood, healing happens, and families remain whole. 
Blood donors must be healthy, weigh at least 110 pounds, and be 17 years old or 16 with written parental consent. Our centers are open Monday-Friday 7am-7pm and Saturday-Sunday 7am-5pm. Click here to make an appointment or to call a specific center.